Introducing the Majestic Symphonic Grand polished copper deep cambered timpani
This Symphonic Grand series timpani combines the stability of a block pedal with traditional hand and foot operated fine-tuners. The resulting instrument offers great accessibility to professional level tuning mechanics making these professional percussionists and orchestras.
Please note: these can be supplied in a German setup upon request.
Quality polished copper kettle
Copper kettles are a time tested, extremely popular choice - and for good reason. Not just aesthetically pleasing, they also produce a fantastic sound with a rich overtone series. The fully suspended kettles promote maximum resonance for a warm sound with generous projection. Precisely tuned, and made with a deep camber these timpani produce an even and powerful tone across the full range.
The smooth blocked pedal system
The blocked pedal system renders the pedal action exceptionally light. Uniquely designed, the spring system ensures smooth pedal action over the full range of almost one octave.
Convenient tuning
Symphonic series timpani are equipped with the well known and eye-pleasing Majestic tuning gauges, which are extremely accurate and easily adjustable. These timpani are also equipped with fine hand tuners, offering a greater range of control for professional players.
Range and sizes available
Each timpani is tuneable within a 1 octave range and come in the following sizes: 20", 23",26", 29", & 32". Like all Majestic timpani, they are supplied with an international setup as standard, but can be supplied with a German setup upon request.
REMO® timpani heads
The heads used are the Remo Renaissance timpani heads so you can be assured of long lasting quality with a great response and tone right from the start.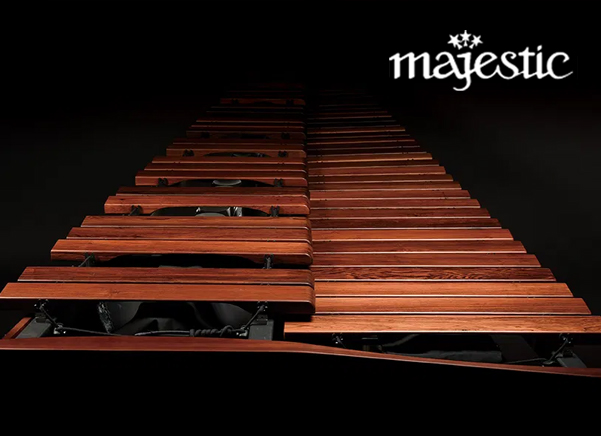 About Majestic
Majestic is a brand of thoughtfully designed instruments for the professional, the educator, and today's percussion student utilizing carefully constructed ideas born from both traditional percussion instrument heritage and a culture of innovation. The family firm was founded in 1921, supplying organs, pianos and wind instruments with the production of percussion following shortly after.
In 1960 the Majestic brand name was introduced, starting with drum kits which were prevalent among rock bands in the Netherlands. Orchestral and marching percussion soon became the corner stone of the brand, with timpani, marching drum and tuned percussion becoming areas of speciality for Majestic.
To this day product development, engineering, and production are overseen by family members and every model must adhere to stringent standards of craftsmanship and performance.
Please note: all large tuned percussion instruments such as xylophones, marimbas, and vibes etc. are delivered boxed and require assembly.