Introducing the Majestic Quantum 18 note 1.25" chimes
Majestic C1518B Quantum chimes feature a 18 note range of 1.25" brass lacquered tubes for reduced weight and affordability. The enclosed damper box ensures precise operation of the mechanism whilst still allowing maximum resonance of the instrument.
The Quantum field frame comes with 8" heavy duty tires with a wide wheelbase, as well as a sturdy frame with additional bracing for reliable performance in all settings and conditions.
Also included is a handy drop cover for protection in storage, and 2 hammers (BKH01).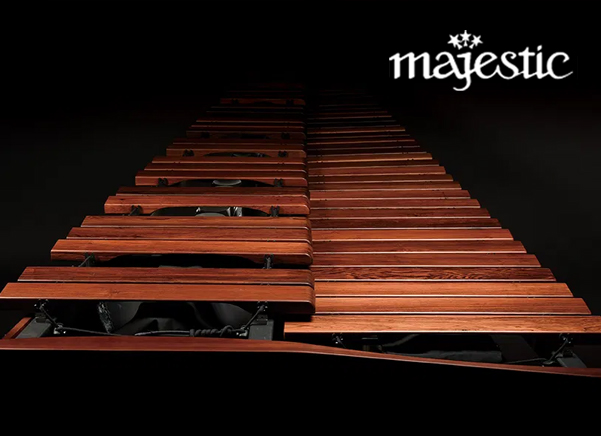 About Majestic
Majestic is a brand of thoughtfully designed instruments for the professional, the educator, and today's percussion student utilizing carefully constructed ideas born from both traditional percussion instrument heritage and a culture of innovation. The family firm was founded in 1921, supplying organs, pianos and wind instruments with the production of percussion following shortly after.
In 1960 the Majestic brand name was introduced, starting with drum kits which were prevalent among rock bands in the Netherlands. Orchestral and marching percussion soon became the corner stone of the brand, with timpani, marching drum and tuned percussion becoming areas of speciality for Majestic.
To this day product development, engineering, and production are overseen by family members and every model must adhere to stringent standards of craftsmanship and performance.
Please note: all large tuned percussion instruments such as xylophones, marimbas, and vibes etc. are delivered boxed and require assembly.